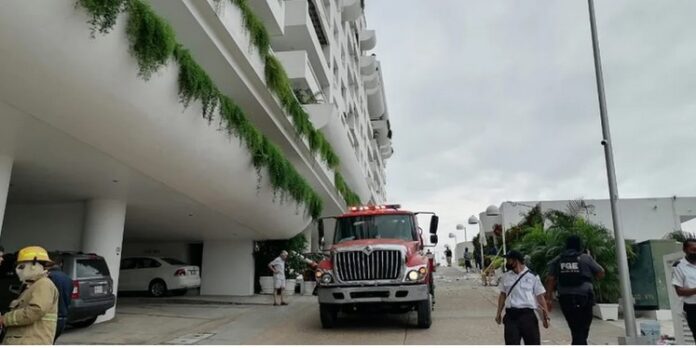 An explosion registered in the Brisas Diamante condominium, located in the Las Brisas subdivision of Acapulco, left eight people injured with first, second, and third-degree burns, and extensive material damage is reported.
People who were walking along Scenic Avenue, in Acapulco, Guerrero on the afternoon of this Friday, October 21, 2022, heard a noise and experienced glass and debris falling at the Las Brisas Diamante condominium. The reason was the explosion in one of the apartments of the building that left a balance of eight people injured, three of them seriously, according to the report issued by the Secretary of Civil Protection of the state of Guerrero.
According to the report, the local authorities went to the condominium after receiving the report of an explosion minutes before 4:00 p.m. The reason for the detonation that left eight people injured, three of them with second and third-degree burns, was the accumulation of LP Gas in department 190. Similarly, people with serious conditions were transferred to various hospitals for treatment. your urgent medical care.
Roberto Arroyo Matus, head of the Civil Protection Secretariat (SPC) of Guerrero, confirmed the report through his verified Twitter account and notified the mobilization of the authorities to the area of ​​the mishap due to the seriousness.
"After an explosion that occurred a few moments ago in the Las Brisas area in the port of Acapulco, personnel from the Civil Protection Secretariat of Guerrero are already attending to this situation in support of the Acapulco government. We keep an eye on the balance, "he wrote in his profile of him known by the name of @Dr_ArroyoMatus.
Personnel from the Mexican Red Cross, National Guard, State Police, Guerrero Firefighters, and the Secretary of the Navy attended the scene. For their part, after having evacuated the affected building, experts and Civil Protection workers entered the facilities to determine the origin of the incident that affected more than a dozen departments. In three of them, the reported damage was more than 80 percent.
Source: OEM