Mexican Assisted Living and Life Plan Communities of 80+ Residents Set to Attract American, Canadian, and other Retirees
Editor's Note: Back in 2016 a single article on senior living in Mexico. Three years later, it is still being read, not by senior living leaders, but by consumers. To not pay attention to what is happening in Mexico is to miss a significant trend in senior living. — Steve Moran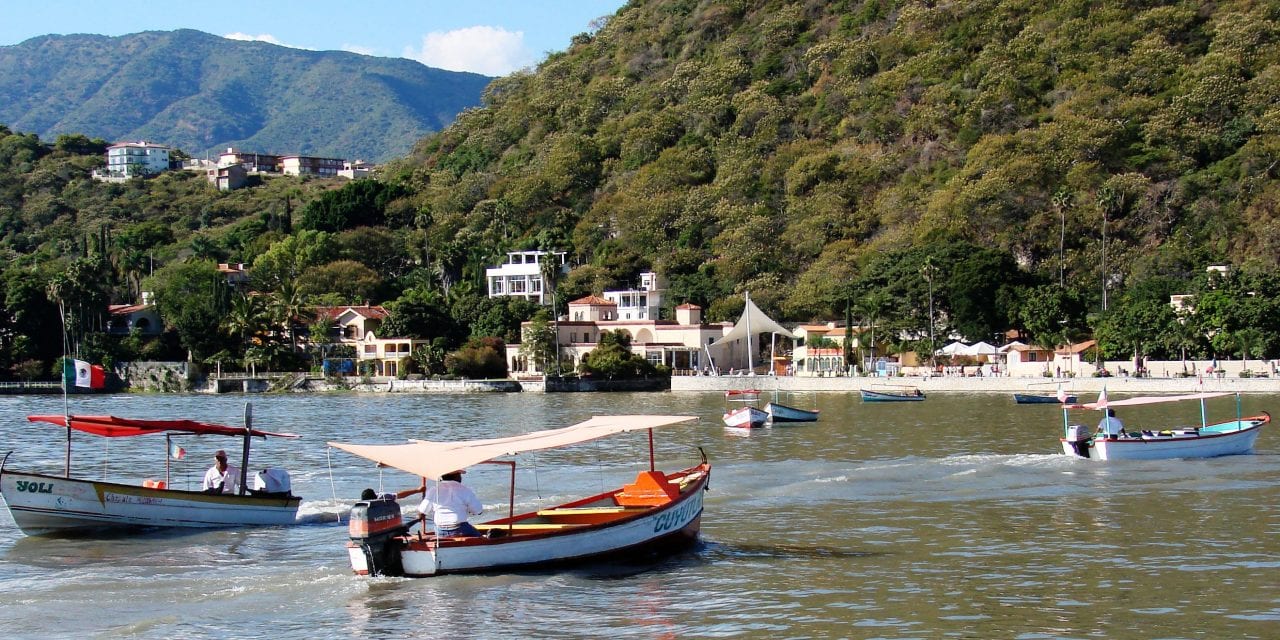 In Mexico, the Latin American country with the largest growth in the senior care market, there are 814 assisted living residences (INEGI, National Institute of Statistics and Geography, 2017). Lake Chapala for example, one hour south of Guadalajara, the country's second-largest city, had 11 assisted living homes with four to 16 residents in 2016, there are now 27. Lake Chapala is an ex-pat retiree destination.
Does growth in small assisted living homes indicate room for residences with apartment suites serving 80 or more, a new concept for Mexico?
And
Will independent living to end-of-life care on one large campus be sustainable?
The short answer may be yes.
A rising number of aging, financially comfortable Mexicans are able to afford corporate housing in various states of Mexico. Future residents may also include a new wave of middle-class retirees from Canada, Europe, and the U.S. for whom corporate senior living models are already familiar.
Corporate developers (American, Canadian, Mexican, and Spanish) saw the potential for Mexico senior housing following the U.S. bank bailout of 2008. They anticipated an eventual exodus of U.S. boomers, boomers with parents, and Gen-Xers with parents seeking a lower cost of living and more reasonably priced healthcare, mostly out of necessity.
The developers' predictions may be on target. Climbing costs of U.S. assisted living and possible cuts in Social Security and Medicare have encouraged some Americans to think about a Plan B south-of-the-border.
Here is an overview of three large communities for older adults, and below them, some communities currently in development: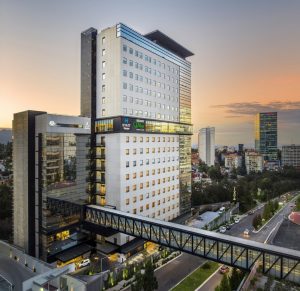 The property incorporates independent living for active older adults, assisting living, nursing, and end-of-life care. The American model is a near duplicate of Belmont Villages in the U.S., featuring long wide corridors tastefully furnished, lovely living suites with lots of light, a library, a gym, a 24/7 snack area, WiFi throughout, and a large dining hall for residents and their families. Most residents, at the time of this writing, are multi-lingual, well-traveled Mexicans who can afford the approximate $3500 USD/month price. See https://www.belmontvillage.com.mx/ or https://www.facebook.com/BelmontVillageMX/. Belmont Village is housed in a classy mixed-use skyscraper that includes a luxury Hyatt Hotel, and, across a walkway, Mexico's top-rated ABC Hospital.
It is the first such property in the country to combine residency, hospitality, and medical care in one central place and is by far the largest. The $55 million project has 133 residences (101 for assisted living, 32 for memory care) though some residents live independently. Belmont Village Santa Fe is the 25th offering from Texas-based senior living provider Belmont Village and its leader Patricia Will who lived in Mexico. The second building in Mexico City's Polanco district is in the planning stages.
Ballesol is an assisted living property located in Colonia El Pueblito, an exclusive residential area outside the beautiful, sophisticated colonial city of Queretaro. The area is a retirement haven for wealthy families from Mexico City and is continuing to draw some of the aging ex-pat population from nearby San Miguel de Allende. There are excellent hospitals, luxury hotels, restaurants, one major university, and cultural events. Grupo Ballesol is a senior living company with 40 years of experience and 48 residences in Spain. It's Mexican Ballesol offers 119 suites in a thoroughly modern building with lots of light and the attention of 31 staff members including "medical professionals." Ballesol focuses on wellness for active adults and offers support for mobility and memory care issues, as well as palliative care. According to the Head of Sales Kelly Gonzalez, there is an entry fee. Living fees start at 26,500 Mexican pesos/month (around $1500 USD) up to 68,150 Mexican pesos/month for Level IV care ($3,600 USD). See https://www.ballesolmexico.com/ or the Facebook page Ballesol Mexico for photos. To get a feel for Ballesol activities, see their YouTube post at https://www.youtube.com/user/GrupoBallesol. Gonzalez can be found at tel. 52 442 290-7160 or at 

[email protected]

. Ballesol Mexico is planning another Ballesol residence in the modern Santa Fe section of Mexico City.
Le Grand Senior Living, a Mexican corporate senior living pioneer, opened in 2011. It is located in Huixquilican on the west side of Mexico City, in an area also known as Interlomas. Its focus is on active senior living, comfortable accommodations serving up to 80 residents, and the latest in technology including Japanese style electric commode/bidets. Fees are $2,000 to $3,000 USD/month depending on services. Each mini-suite has its own small refrigerator and a microwave. Le Grand also receives those who stay in fully-furnished suites for one day to three months. Most of the current residents are well-traveled Mexicans many of whom have lived abroad. Americans are welcome. The geriatric physician in charge speaks English, as do some of the nurses, and Dora Nissan of the Public Relations department. See www.seniorliving.com.mx – the domain name is in English, even though the content is in Spanish. The photos give an excellent idea of the level of energy and activities offered. Its slogan is "Para Vivir en Grande!!!", loosely translated as living in style or living with high standards. Le Grand has a Facebook page and its number in Mexico is 52 55 5950 0770. E-mail contact is 

[email protected]

.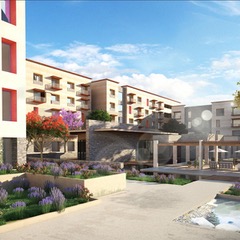 La Pueblita, Ajijic, Lake Chapala is scheduled for completion by late fall 2020. The Mexican owners are partnered with Northstar Senior Living of California for operations and are offering "resort-style" living. This Life Plan Community/CCRC, promoted as "Lake Chapala's First World-Class Retirement Community", is being marketed primarily to Americans and Canadians. There will be 200 units housing 300 residents, 32 of which will be dedicated to assisted living, and 30 for memory care (some with shared rooms). There will be casitas as well as studios and penthouse residences. According to Senior Solutions Director Karen Perry, 75% of the property is intended as independent living. There is a buy-in fee meeting personal and financial needs with caps at various levels and in some cases a reimbursable fee. The monthly rental rate begins at $1320/month and extends to over $3000. Residents must be 60 years or older. This lakeside project has been eight years in development. It is the vision of Dr. Trinidad Zepeda, a well-regarded pediatrician in Guadalajara who is working with his daughter Carolina and other family members to offer an all-inclusive environment that is "safe and secure, with a menu of services that allows residents the freedom to live a simple, hassle-free life." La Pueblita plans to offer 24/7 medical services on-site plus health and wellness programs for aging in place. When asked what excites Dr. Zepeda to accommodate older adults, he replied, "We wish to provide a place for our parents of quality, comfort, and person-centered care. We are pleased to offer U.S. standards with the warmth of Mexican culture at considerably less cost."
La Pueblita plans to build additional communities in Ensenada, Puerto Vallarta, somewhere in Quintana Roo, and in San Miguel Allende (three are coastal locations).
Visit www.lapueblita.com. See also their Facebook page. YouTube video https://www.youtube.com/watch?v=WBaLCPhsJZ0. For information contact Karen Perry at USA number (775) 315-3929, in Mexico at 52 376 688-1705, and at 

[email protected]

.
Two other Life Plan Communities are being considered for Lake Chapala They are "under wraps" and info about them may not be disclosed at the time of this writing. Javier Govi, a Mexican businessman and development consultant is currently collaborating on three corporate senior housing projects with investors for Baja, Lake Chapala, and the Yucatan -– all projected to open within five years. Govi, who envisioned the migration of Americans and Canadians over a decade ago when he conceived AMAR (Mexican Association for Retirement Assistance) states, "Our goal is to create a state-of-the-art, healthful, sustainable living with a focus on wellness. We intend to provide 24/7 security with American and European standards. Each property will have its own access to clean water." Residents would primarily be 50+ boomers and Gen-Xers often working as "digital nomads", expecting to age in place with smart universal design, technology solutions, and a lower cost of living. See http://www.amar.org.mx/ and its Facebook page for more information.
Summation
Large assisted living and life plan community models may fit Mexico because of timing meeting needs.
These models are already familiar to Americans and Canadians whom developers wish to attract.
Active living communities, geared for all stages of aging with Mexicans and/or other ex-pats, costing one-third to one-half less than in the U.S., maybe appealing. Studies show the inherent socialization of this model may lead to a longer and more healthful life.
Aside from new corporate projects in Mexico's colonial highlands, plans are in the works to build along the Pacific coast of Baja California in the north as well as on the Yucatan/Quintana Roo coasts in the south, established ex-pat havens.
Wendy Jane Carrel, MA, is a Spanish-speaking senior care specialist and consultant from California. She has traveled to Mexico for several years researching health systems, senior care, and end-of-life care in order to connect Americans, Canadians, and Europeans with options for loved ones. She has investigated hundreds of senior housing choices in 16 Mexican states. Her web site is http://www.WellnessShepherd.com.
Additional Resources
Statistics:
The U.S. population is around 337 million.
There are 2,100 CCRCs in the U.S. with over 600 living units.
The population of Mexico is around 126 million.
Based on demographics, it is anticipated that in 15 years Mexico will be a country of older adults. In Mexico, an older adult is 60 years old or more.
Source: seniorlivingforesight.net
The Mazatlan Post