In addition to Halloween and Thanksgiving, a widely-celebrated autumnal North American holiday, called Day of the Dead, is coming up at midnight on Sunday, Nov. 1. The Mexican holiday — known as Dia De Los Muertos — takes two full days to honor, celebrate, and lament loved ones and religious figures who have passed on.Article continues below advertisement
For a full history and an explanation of the traditions of Day of the Dead, as well as tips for how you can celebrate mindfully and respectfully, we've compiled a complete guide to the Mexican holiday.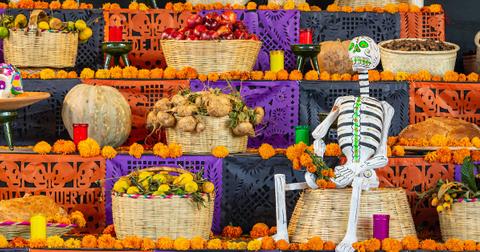 What is Day of the Dead? Behind the history and traditions of this Mexican holiday.
Day of the Dead is a two-day holiday that unites the living with family members and famous figures who have passed away. Every year, families decorate special altars with a variety of offerings (called ofrendas) to welcome those who have died. The holiday starts at midnight on Nov. 1 to honor children, and lasts for two days, honoring adults the following midnight, and everyone on the last day.
A few Day of the Dead staples include calaveras, or skulls, which are often depicted smiling, to laugh in the face of death. They come in the form of sugary candies and decorations. Calaveras are placed on the ofrenda, along with yellow marigolds, to guide spirits, as well as photos of the deceased person, and their favorite refreshments.Article continues below advertisement
Americans often refer to Day of the Dead as "Mexican Halloween" because they overlap, which is not only insensitive, but also incorrect. Day of the Dead is a spiritual and meaningful family holiday to Mexican families who have experienced loss. And while it's disrespectful to appropriate the holiday as Americans, there are small ways we can pay tribute and appreciate the fall holiday in a mindful and respectful manner.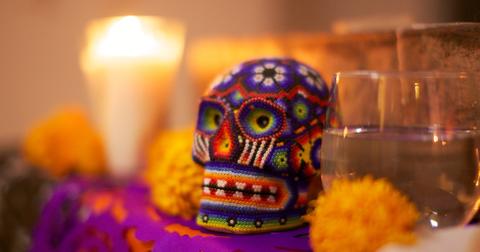 Here's how you can mindfully pay tribute to Day of the Dead:
One way to celebrate Day of the Dead respectfully and sustainably is by making your own Pan de Muerto (which means bread of the dead). This is generally one of the many sweet offerings families place on their ofrendas, and if you're interested in making it for yourself, we found a vegan Pan de Muerto recipe on Brown Sugar and Vanilla that simply substitutes milk for almond milk. The recipe creator, Alejandra, swears by the recipe, and makes it for her family every year.
Another way to mindfully acknowledge Day of the Dead by making Papel Picado using solely upcycled materials. Papel Picado is a form of traditional folk art that decorates streets, plazas, and churches during the holiday. It often consists of designs on pieces of colorful paper, which are strung along a line of twine, and hung in doorways or on fireplaces. Try using old newspaper or magazines this year, to make use of things you would have otherwise tossed.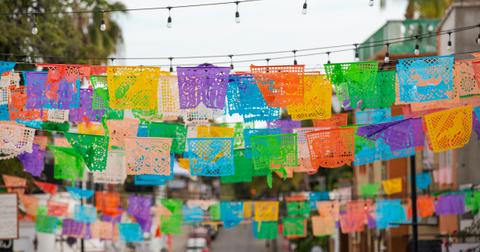 Day of the Dead is a truly beautiful celebration observed by a large portion of North America. If you're one of many planning to take part in the bittersweet holiday, happy (almost) Day of the Dead.
Source: Green Matters