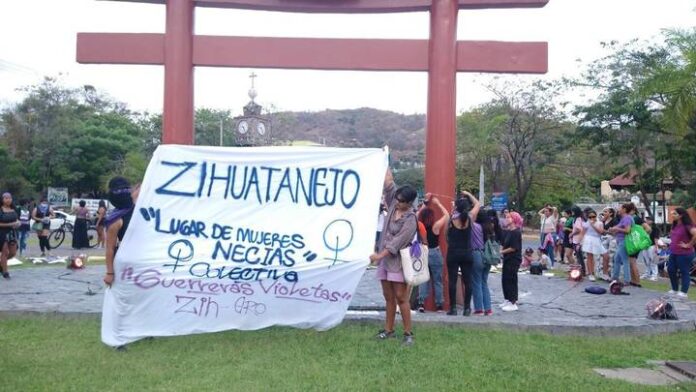 Feminist groups marched and painted the city to commemorate International Women's Day
Hundreds of women and feminist groups took to the streets of Zihuatanejo to raise their voices, march, and do paints, in commemoration of International Women's Day.
With songs, dances and slogans, more than 200 women demanded that the authorities stop the femicides and attacks against them, in addition to sexual abuse, in this municipality and the entire state of Guerrero.
They concentrated on the Fuente del Sol and from there they left for the Zihuatanejo Public Security Directorate, where they painted the facade, alluding to raping police officers.
Without reaching the point of destruction, the feminists made other paintings on the streets, walls and sidewalks, exposing male aggressors, rapists and child support debtors.
Mothers of families accompanied by their daughters, adult women and young people continued their march through the main streets of the municipality, until they reached Kyoto square, where they held a rally.
Before, they paralyzed circulation in several sections and in one of them they had an altercation with motorcyclists, who disqualified their mobilization, taking advantage of the fact that they could evade them by getting on the sidewalks.
Throughout the march, the participants were protected by traffic and road police elements, as well as Civil Protection paramedics and firefighters; everything ended in white balance.
Source: El Sol de Acapulco