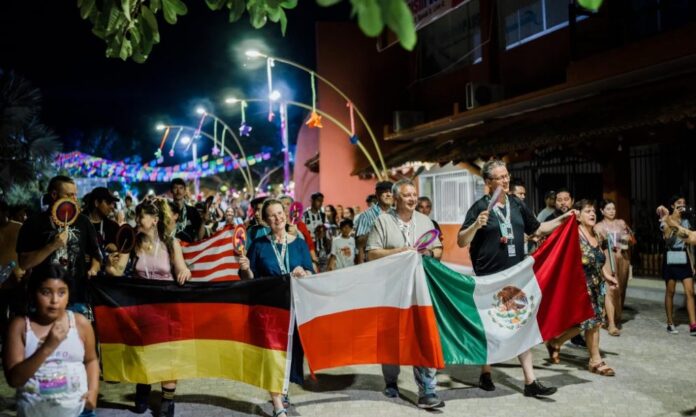 With the participation of dozens of artists from various countries, the Crossing Borders Festival, Mexico-Germany Cultural Exchange, has been taking place since last Wednesday, August 9 in Zihuatanejo, which will conclude this Sunday.
Musical concerts, art workshops and exhibitions of plastic arts and crafts are the central part offered by the festival in different spaces in Ixtapa and Zihuatanejo.
For her part, the plastic artist from Acapulco Celeste Illazki, who heads the effort, celebrated the attendance of the people who from the first day have come to the activities, recalling that this is the first time that this festival has been held in Zihuatanejo and that it is an extension of the one that takes place in Michoacán – it just concluded a week ago – and that has been organized for six years, one year in Mexico, one year in Germany.
To her, she added in a telephone conversation, creators from Germany, Poland, the United States and Mexico (Nuevo León, State of Mexico, Oaxaca and Michoacán) attend.
It was last Wednesday the 9th that the festival opened with a concert by a flute ensemble at La raíz de la Tierra, a restaurant in Ixtapa, and "despite the heat it was a success, we were full, there were people who stayed outside".
Thus, and having different venues such as the Zihuatanejo auditorium, the House of Culture or the Archaeological Museum of the Costa Grande, various activities have been carried out these days such as workshops, rock, blues, folk concerts, as well as pictorial exhibitions.
In fact, the artist recounted that with the support of the municipal authorities the night before the festival, a coastal alley with music and dance was offered in the streets to receive them.
Among the activities, she highlighted, various workshops have been offered, mainly attended by children; card printing workshops, German songs and dances, illustration, singing, wood carving or photo-embroidery were some of the activities.
"People are happy, they come curious and excited to participate and request that this type of activity be repeated because it is necessary", for which she assured, her purpose will be to carry out this festival again. She stressed that it is an act that is organized independently with some private and government support.
The closing of the festival activities will be on August 13, said Celeste Illazki, who invited people "to come to the Ixtapa kiosk at 6 in the afternoon, where we will have live music with local artists and there will be a collective of painters with our participating artists".
Later another concert will take place at the Ixtapa restaurant La raíz de la Tierra.
  Source: Sur Acapulco