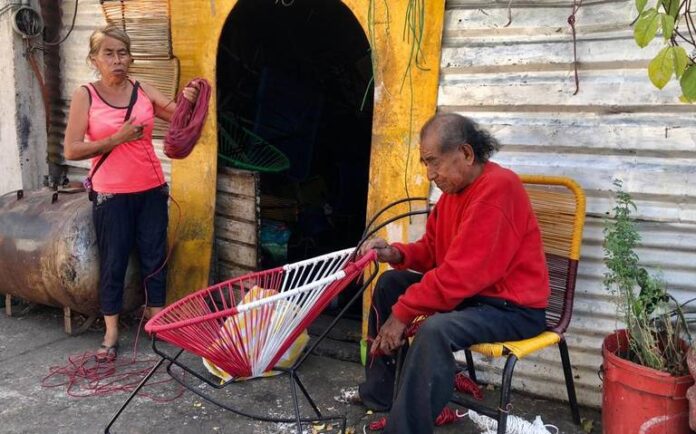 Even though he is losing his sight due to diabetes, don Juan Domínguez continues to weave his traditional chairs
For 40 years, Juan Domínguez Lucena has been dedicated to weaving the traditional Acapulco armchairs that have crossed borders since his work is in a homes, hotels, and restaurants of clients from different states as well as in countries such as the United States, Spain, Italy and Japan. Reporters have visited him to make a documentary about the making of this craft.
In the Aguas Blancas roundabout, between Calle 16 de Septiembre in the neighborhood of La Fábrica, in the urban area of Acapulco, Don Juan has his small business with the name "Sillones Tejidos Domínguez", passing by is distracting yourself for a few seconds because You will see this 80-year-old man working.
Even though diabetes and the welding work to assemble the pieces of the chairs and later weave with vinyl strips, has caused him to gradually lose his sight, don Juan continues to weave and sell his traditional chairs.
He guides himself with his knots, he knows by heart the turns he has to make to the more than ten chair designs, but Don Juan Domínguez says that his eyesight no longer helps him, everything is blurry for him, but he continues working to be able to eat.
"As I have bad eyesight, I have woven these chairs, I am counting on my fingers because I couldn't see the turns, these small armchairs have to take five turns and the big ones the same".
His chairs, which he named La Roqueta, Las Brisas, Caleta, Horno, and Pichilingüe have more than 10 designs such as the shape of a rocking chair, scorpion bolt, egg, benches, half-moon among others.
Together with his children, he has sent orders for up to 20, 30 chairs, up to 200 armchairs and tables with chairs to Cancun, Puebla, Monterrey, Mexico City right here in Acapulco and even for a beer company and for the Acapulco culture house. .
His foreign clients have taken his chair designs to Italy, the United States and Japan.
Don Juan was not spared from Covid -19 and got very sick, but after his treatment and having recovered, he continues working but regrets that due to the pandemic sales dropped and now he sells between five to seven chairs or armchairs a week, for him is very little.
The cost of a chair woven by Don Juan Domínguez has a cost depending on the embroidery from 700 pesos to 8 thousand pesos.
Source: El Sol de Acapulco